"There's really no such thing as bad weather, only different kinds of good weather." As winter's cold front begins it's impolite assault, most runners are trying to kick their race season training into high gear. The challenge Chicagoans face while training outdoors for a race like a 5k up to a full marathon, are the frigid temperatures, slushy snow, blistering wind and all the winter elements. With the proper running shoes and adequate workout gear, finding an outfit for running outdoors should ease your mind to concentrate on your actual training. We checked in with a few running experts in the city to bring you a checklist of items every runner should have on deck as they begin their training outdoors.
Base Layer
There are two types of base layers runners can choose from: a synthetic material like the 'Mizuno' long sleeve (below), or the 'Smartwool' base layer which is considerably warm and more likely to trap in heat.  A synthetic base layer will wick away sweat and trap in heat as you run but synthetic materials can also cool you down as soon as you stop running, causing your body to go into shock. On the other hand, wool fibers are naturally very porous and will allow for more breathability, ultimately trapping in body heat even when you stop running.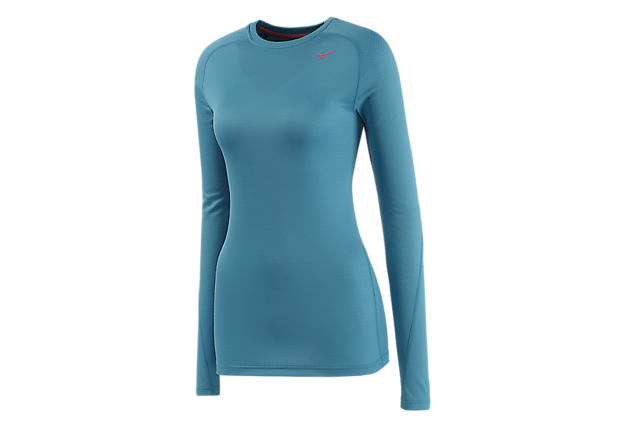 Mid-Layer
A mid-layer is great for running in weather temperatures above 30 degrees. Pair this Sugoi half-zip sweater or the Saucony running jacket over any long sleeve base layer for a light and seamless run along Lakeshore Drive.
Outer Layer Jackets
If you decide to run in temperatures below twenty degrees, it's advisable that you add an outer layer piece like this North Face jacket or Nike Aeroloft designed for such conditions. The Northface outer layer jacket is lined with heavy fleece and made with wind stopper fabric on the sleeves and front panels, neutralizing the chilling effects of wind. The Nike jacket has drift wool and Nike's Aeroloft technology incorporated.
The Sugoi Alpha Hybrid Jacket is constructed with three different types of fabrics, making this piece one of the warmest jackets for outdoor running.  The jacket is equipped with wind panels on the front side which is effective for blocking severe wind chills, waffling fleece material on the inside for extra warmth, and synthetic fibers on the back side to allow for more air flow.
Tights
Tights in frigid conditions are preferred over loose pants as they help to keep heat in. Craft, Nike, Eastbay and UnderArmour have some options for you and some of them run in sizes as large as XL-XXL. If you do prefer running in loose pants, layer with the Under Armour base legging.
If you prefer running in the evening, most Craft tights are made with high-visibility thermal material for safe running in dark conditions.
Bun Toaster
Need an extra layer of warmth for cold weather workouts? Try this bun toaster by Sugoi useful for sub-zero temperatures. Protect your buns, ladies!
Neck Gaiter
A neck gaiter is an essential accessory for running outdoors. Most neck gaiters are lined with thermal fabric which will protect your cheeks and lips from wind burns.
Ear wind Band
Running Gloves
The adapt running glove by Brooks serves as a glove and a mitten with touch-screen compatible finger pads, terry towel on the thumb to fight off runny noses, and a detachable LED light for night time runs.
Socks
Stay away from cotton and stick to micro-fibers and merino wool for extra protection against sheer friction blisters.
Shoes
Attach Yaktrax to any type of running shoe to allow for more traction when running on icy roads and snowy trails. The Yaktrax run can be worn in temperatures as low as -41 degrees farenheit!
Now that you're geared up and ready to get started? To prevent running injury because of bad form or just don't know what your running form is? Get a full gait analysis for your individual running style at any of these shops: Running Away Multisport (2219 North Clybourn) Fleet Feet ( 1620 North Wells Street,  1145 South Delano Court East), or Nike Town (669 North Michigan Avenue). In order to identify whether your feet over pronate, supinate, or neutralize as you run, a running specialist will require you to run on a treadmill for several minutes.  The specialist will then suggest the best running shoe for your indoor and outdoor training. Gear up and start running!
I am currently training for a half marathon for charity so I will be updating you with my training progress as I go along.
*featured image credit: Nike